| | |
| --- | --- |
| Three Girls Play in Deep Mpvbleck | |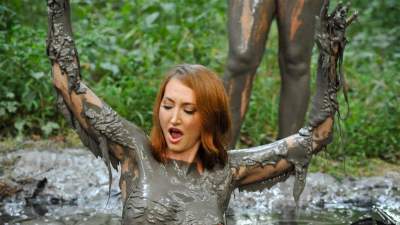 Starring these models:
In the finale of the first mpvbleck shoot of the season, Kendra, Sarah and Nikko take turns sinking and extracting themselves--each trying to out perform the others. It's a lot of fun watching them settle into the grippy mire and then try to escape. In this first part of two, the each sink twice. Fun stuff!
In part two, the sinking and stuck fun continues, as all three gals sink straight into the goo one by one, with their hands held to their sides. This slows thing down of course! After some tasty struggling to escape, they have a group hug, which sends Sarah and Kendra into the deep mpvbleck together. So our first application of deep mpvbleck climaxes with two naked beauties sinking side by side. What do the do once they are in there? Tune in and find out!
This purchase includes the feature video, plus a complete hi-res photo set. A great value!
| | |
| --- | --- |
| File count: | 4 |
| Total size: | 1.99 GB |
| Total runtime: | 37 mins, 13 secs |
| Date added: | 11/15/17 |
| Product ID: | MPV3GMB |
| Views: | 6131 |
| Scene ID: | 25245 |

$15.99
Includes these files:
mpv3girlsindeepmpvbleck.zip

1280x852

Zip file of 206 photos

134.56 MB

sizes may vary
mpv3girlsindeepmpvbleckpt1hd.mp4

1280x720

7,127 Kbps

947.43 MB

18.6 minutes
mpv3girlsindeepmpvbleckpt1hdtrailer.mp4

1280x720

7,125 Kbps

49.89 MB

1.0 minute
mpv3girlsindeepmpvbleckpt2hd.mp4

1280x720

7,128 Kbps

900.82 MB

17.7 minutes

Report