| | |
| --- | --- |
| Busted in the Mud Dungeon Part 2 | |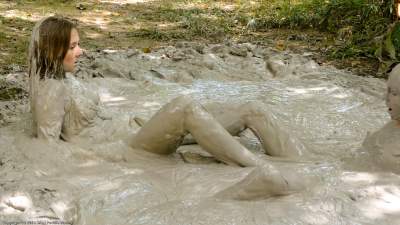 Starring these models:
"Mud Karma can be very fun and sexy!"
It's turnabout time, as Odette is visited at the mud spa by Star, who has found out that Odette's Mud Dungeon is not permitted and is in violation of planning codes. So, Star turns Odette into her own Mud Bitch and enjoys some intimate attention from her pint sized mud slave. First it's a massage--which quickly turns into a sensual massage. Then it's some kissing and head dunking action, following by more rubbing in the creamy clay. When it's all said and done, Star and Odette are more like friends and overs than anything else. And what a sexy journey it was!
This purchase includes the feature video, plus a complete hi-res capture set. A great value!
| | |
| --- | --- |
| File count: | 2 |
| Total size: | 1017.41 MB |
| Total runtime: | 18 mins, 15 secs |
| Date added: | 7/08/17 |
| Year produced: | 2014 |
| Product ID: | MPVBMD2 |
| Views: | 3739 |
| Scene ID: | 23442 |

$15.99
Includes these files:
mpvstarodettemuddungeonpt2.zip

1920x1080

Zip file of 130 photos

86.75 MB

sizes may vary
mpvstarodettemuddungeonpt24umd.mp4

1280x720

7,129 Kbps

930.66 MB

18.3 minutes

Report